Dress: London
Preppy spectacles: DIY-ed from 3D glasses
Flower ring (part of a set): H&M
Alexa-inspired satchel: Blogshop
Lace up floral brogues: New Look
This look is a vintage-inspired one. However, nothing is truly vintage as everything I wore was either purchased from the high street or from online blogshops.
Frankly, it's very difficult for me to find vintage clothing that I really like. I own quite a few pieces of vintage jewellery, but I think only one vintage jumper. That's really odd because the city I'm living in is full of vintage shops. Vintage fashion has really caught on in the last couple of years, but I noticed that this city especially has a slight obsession with all things vintage. In fact, the pioneers of the vintage fairs I usually go to, come from this city. I love going to these fairs and I love browsing in a vintage store, but I've no idea why I can't seem to find more stuff.
In other news, April, who blogs at
Delicately Fierce
, is organizing an outfit contest. I thought since I regularly post my outfits anyway, I might as well submit this one as an entry. So here's my entry for the contest :D
Click on the banner below if you're interested in joining, too. The more the merrier! Closing date is 7th July.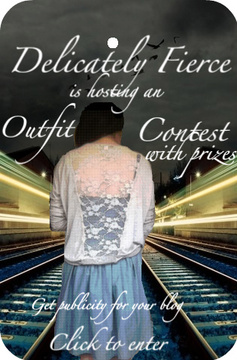 Oh, oh, remember how I mentioned in my last post that I never ever won any blog giveaways until now? Well, it seems that lady luck is on my side as I won another 2 giveaways after that. Yay! One of it is from the lovely Ashley from
The Button Boxx
.
Her giveaway initally only had one winner, but she generously decided to throw in a second prize at the last minute. What a sweetie! I'm so glad she did because I'm lucky number 2! Here's what I got.