Today, I'll be reviewing the
GEO Bella Brown
circle lenses.
Disclosure: These lenses were sponsored by
Shoppingholics
, a Malaysian-based online store that sells circle lenses, fashion accessories and other beauty and body care products.
Shoppingholics
did not dictate what should or should not be in this review and thus this is written based on my honest opinions.
The parcel took just slightly over a week to arrive. As always, their packaging is uber cute and very secure. Everything was posted in a bubble envelope, of course, but the vials were also stored inside this tiny little box with extra bubble wrap. As I was ripping the envelope, I was super keen to see which cute animal lens case I got. The feeling is a bit like opening a Kinder Suprise egg *wink*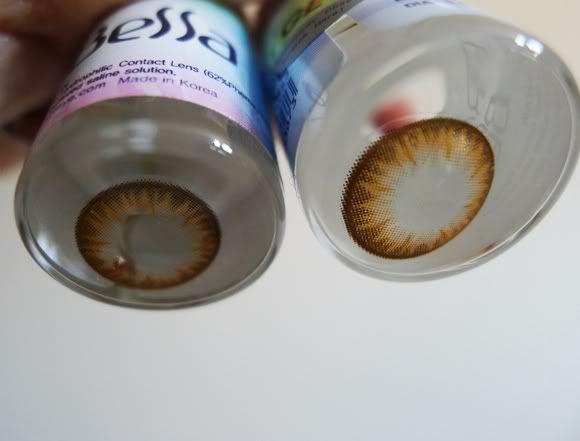 Item details
Origin: Korea
Diameter : 14.0mm
Water Content : 38%
Base Curve : 8.6mm
Life Span : 1 year disposal
Comfort: 4/5
As I do for all my circle lenses, I soaked my lenses overnight before I wore them for the first time. For some reason, the first day I wore them, I couldn't wear them for longer than 3 hours before my eyes started feeling dry. However, it got better the next day and now, I can wear them for 6-8 hours without any problems. I don't experience any discomfort within this period, but any longer and my eyes will start to feel really dry.
Enlargement: 3/5
As these are only 14.0mm in diameter, I didn't expect them to have much of an enlarging effect, but I was pleasantly surprised to see that it did make my eyes look brighter. True, the enlargement effect is not as big as the 15.0, 16.0, 17.0mm ones, but it definitely enlarged my irises. I like the fact that the ring around the lenses are dark brown in colour because it definitely blends in better and looks more natural like that.
Colour: 2/5
*note that a 5/5 score would mean that the colour's very obvious even while indoors*
I have naturally very dark brown eyes and I've been told that apparently, my irises are darker in comparison to most Asians. These lenses made my irises a lighter shade of brown. The brown is more obvious in daylight, but still looks very natural, in my opinion. Indoors, the brown can be seen under certain lighting.
How much do I like them?
4.5/5
Without flash (facing the window)
With flash
Note the difference
When asked to select a pair of circle lenses I wanted to review, I went straight for the browns because I was on the lookout for a pair that gave my eyes that subtle hint of colour and one with a
little
bit of an enlargement effect. As you guys know, I'm a minimalist when it comes to makeup, but a lot of circle lenses look best when worn with full eye makeup, including false eyelashes. I used to own a few pairs that were 14.5mm diameter and those I saved for nights out when I could occasionally (rarely) force myself to doll up. I love the whole
gyaru
look and I admire how pretty some girls look, but I know that for lazy me, I need something more for everyday wear.
Are you ready for some vain selca pics?
Without flash (indoors)
With flash (indoors)
Without flash (facing the window)
I own (and have owned) many pairs of circle lenses, but these GEO Bella Brown lenses have certainly become one of my favourite pairs because of how natural they look. Also, I think they kind of match my hair!
I hope that this review was useful especially for girls who want to go for a more subtle and natural look for daytime. If you're as lazy as me, then these lenses are perfect for you :)