So life has been dull. I've been working on my dissertation day in, day out. I can't believe I'm putting myself through this torture, again. After my undergraduate degree, I swore never to go back to school, but look where I am now. The worst bit is that I've already written a dissertation for my undergrad, so this is my second one. Once was enough to nearly kill me, why I'm doing another one I've no idea. This Master's better land me a high-flying job where I can just bum around sipping overpriced coffee and occasionally sign a document or two. I kid. Even people with a Permanent head Damage are out of work these days, what more little ol' me. Sighhh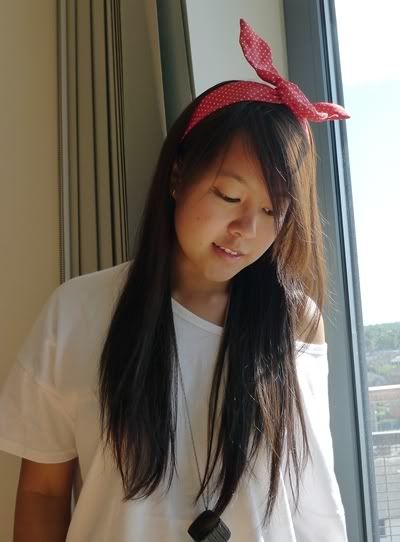 I wore this when I went out with a few of my friends for the second day of Tramlines Festival. I was really dressed down and just wore plimmies. My friends (wrongly) predicted that I would dress up (because I overdress sometimes haha) so they all wore heels. One girl even wore one that was about 5 inches! Luckily, I decided to throw on some accessories at the last minute, so I wasn't too shabby, I don't think. I think this is about the only way I can wear a usamimi headband without feeling overly cutesy. Keep everything simple and add a pop of bright red on the top of my head. Nice!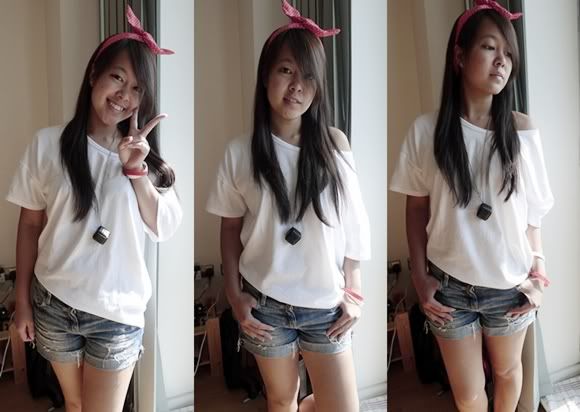 As you can guess, this post was rather pointless other than to bombard you with photos of me, me, me. You're probably thinking, "What on earth?? She's wearing a white tee and some shorts! Surely that doesn't deserve an entire post of its own" And you're right, so let me show you my nails. Ta-dah!
Base coat: Boots No.7 Stay Perfect in Twinkle
Pink nail tips: Etude House