Today, I'll be reviewing the GEO Jazz Coffee circle lenses.
Disclosure: These lenses were sponsored by DBeautyShop , a Malaysian-based online store that sells circle lenses. DBeautyShop did not dictate what should or should not be in this review and thus this review is written based on my honest opinions.


The company ships worldwide. Packaging was adequate with secure bubble wrapping around the vials and everything was sent in a bubble envelope. They offer a free animal lens case with every pair of circle lenses purchased. I got pink fishies this time!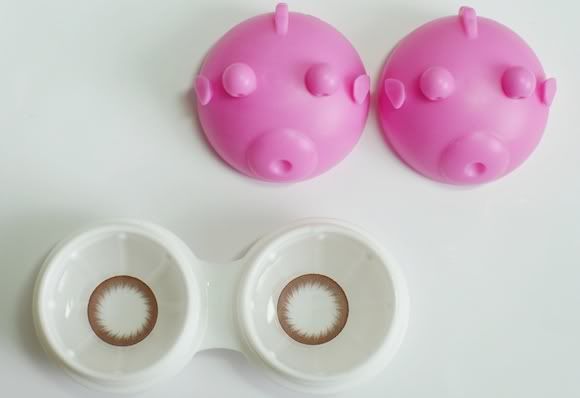 Item details
Origin: Korea
Diameter : 14.0mm
Water Content : 38%
Base Curve : 8.6mm
Life Span : 1 year disposal
With flash
Without flash

Note the subtle difference

Comfort: 3/5
These lenses are relatively comfortable and I forget that they are there after a couple of minutes. However, even though it says that the water content is 38% (like most of my other circle lenses), I can only wear it for 4-6 hours after which my eyes will start to feel really dry.
Enlargement: 3/5
As these are only 14.0mm in diameter, I didn't expect them to have much of an enlarging effect. This suits me just fine as I always prefer the natural look.
*I wear circle lenses in every single photo of me you've seen on this blog so you know I go for subtlety*
You may wonder why a higher rating isn't awarded as these lenses are clearly larger than my iris, but actually, there are circle lenses with even wider diameters like 15.0, 16.0 and 17.0mm. Those would definitely give you the dolly-eye effect and I think those deserve higher ratings for iris enlargement.
However, that is not to say that you should discount circle lenses with lower ratings for iris enlargement because for people like me, we're happy that the enlargement effect is subtle. I know I speak for a lot of ladies when I say that I wished the manufacturers would produce new 14.0mm designs for circle lenses. It seems that a lot of companies these days are competing to have the widest diameter without taking into account what the consumers really feel most comfortable with.
Colour: 1/5
*note that a 5/5 score would mean that the colour's very obvious even while indoors*
These lenses offer no colour change except maybe when I use flash photography. I still gave it a 1 because I like the light brown ring around the lenses because this makes the enlargement look really natural and blends into the eyes easily.
How much do I like them?
3/5
Time for vain selca pics
Without flash (indoors with curtains drawn)
Without flash (indoors with bright sunlight streaming in)
With flash